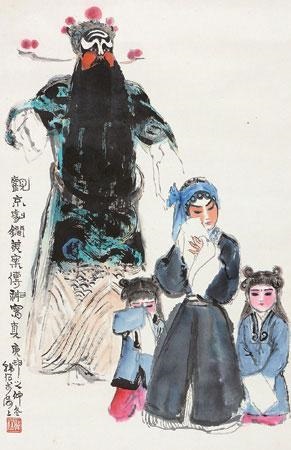 编译: 梓菁
秦香莲是中国古代苦情妇女和被抛弃妇女的代名词,同名剧《秦香莲》是京剧的青衣张派、老生马派和花脸裘派的代表剧目之一,由闯宫、寿宴、杀庙、铡美四折组成。在"闯宫
"
一折中,陈世美贪图富贵,停妻另娶
,秦香莲带领孩子闯入宫门苦苦哀告,希望丈夫能回心转意。
Ms. Qin Xianglian took care of her poor family single-handily and never expected that her husband was determined to abandon her and their children after his social status changed.  In this act Qin broke into the palace to reason with her husband. The classic is a typical work of Zhang performing style in Beijing Opera's repertoire.  
(二黄原板)  心如刀绞我的泪难忍,
                                His word is like a sharp blade cutting my heart
                     低声下气叫官人:
                             I have to humbly beg my husband
          念在二老公婆份,
                                                   Please consider that I have taken good care of your parents
                       看在儿女二娇生。
                                                    Please consider that we have already got our son and daughter
       抛弃糟糠心何忍,
                                                    It is a terrible thing to desert your humble wife like this
             望官人你将妻认,莫叫夫妻两离分,
                                                    May I beg you, honorable husband, please recognize that I'm your wife,
儿失天伦。
Please do not separate your children from their parents.